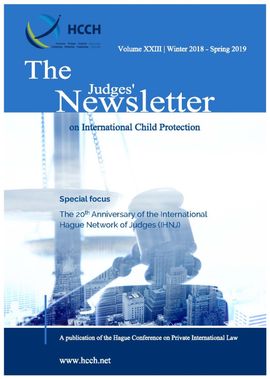 The Judges' Newsletter on International Child Protection
This biannual publication was first published in the spring of 1999 and is the result of the desire of the Hague Conference to guarantee circulation of information relating to judicial co-operation in the field of international protection of children. This publication is therefore a collection of information on the different Hague Children's Conventions and reports on the numerous initiatives taken throughout the world in the framework of these Conventions.
To date, the collection comprises 22 bilingual English / French volumes and one bilingual special edition. Some editions are also published in Spanish, and others are available in Arabic on an ad hoc basis. They are distributed electronically by the Permanent Bureau of the Hague Conference, and can be printed from the Hague Conference website (under "Publications" and "Judges' Newsletter").