Pakistan joins the 1980 Hague Child Abduction Convention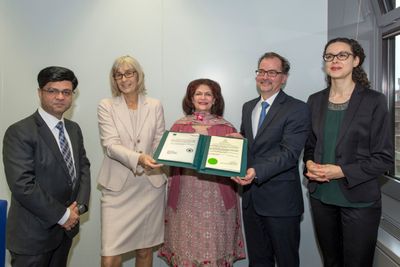 On 22 December 2016, Pakistan deposited its instrument of accession to the Hague Convention of 25 October 1980 on the Civil Aspects of International Child Abduction and thus became the 96th Contracting State to the Convention. The Convention will enter into force for Pakistan on 1 March 2017.
At the ceremony, which took place at the Ministry of Foreign Affairs of the Netherlands, the Embassy of Pakistan was represented by H.E. Ms Iffat Imran Gardezi, Ambassador, and Mr Faraz Zaidi, Counsellor. Secretary General Christophe Bernasconi and Senior Legal Officer Maja Groff represented the Permanent Bureau of the Hague Conference. Ms Coos 't Hoen, Head of the Treaties Division, and Mr Mark Groen, Senior Legal Officer, Treaties Division, attended the ceremony on behalf of the Ministry of Foreign Affairs of the Netherlands.
Pakistan in 2013 designated a judge to the International Hague Network of Judges (IHNJ) specialised in child and family law matters, the Honourable Mr Justice Tassaduq Hussain Jillani, former Chief Justice, Supreme Court of Pakistan (now retired). Justice Jillani also served as co-Chair to the Working Party on Mediation, established in 2009 within the "Malta Process," to facilitate the development of mediation structures to resolve cross-border family disputes. The Malta Process promotes co-operation with countries with legal systems influenced by or based upon Shari'a law, for the international protection of children and the resolution of complex, trans-frontier family conflicts.
Pakistan also played an active role in the recent May 2016 Fourth Malta Conference on cross-frontier child protection and family law ("Malta IV") within the Malta Process. The Malta IV meeting recognised that the 1980 Child Abduction Convention, the 1996 Child Protection Convention and the 2007 Child Support Convention support a number of key principles expressed in the 1989 United Nations Convention on the Rights of the Child, all in the best interests of children. The experts noted that these Hague Children's Conventions are designed to be global in reach and to be compatible with diverse legal traditions.
While not a Member State of the Hague Conference, Pakistan is now a Contracting State to two Hague Conventions, the other instrument being the Convention of 15 November 1965 on the Service Abroad of Judicial and Extrajudicial Documents in Civil or Commercial Matters.
---