Malta IV Conference on Cross-Frontier Child Protection and Family Law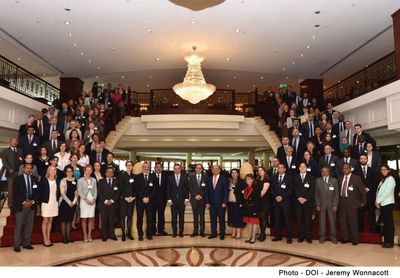 Valletta, Malta: From 2 to 5 May 2016, more than 130 senior government officials, judges and other experts from 34 countries, including Algeria, Australia, Bangladesh, Belgium, Canada, France, Germany, Indonesia, Iran, Israel, Italy, Japan, Jordan, Kenya, Lebanon, Libya, Malaysia, Malta, Mauritania, Morocco, the Netherlands, Norway, Pakistan, Portugal, Saudi Arabia, Senegal, Singapore, Spain, Sweden, Switzerland, Tunisia, Turkey, the United Kingdom and the United States of America, from the Asian-African Legal Consultative Organization (AALCO), the United Nations Committee on the Rights of the Child, the European Union (the Commission, the Parliament and the Council), the Association of International Family Judges (AIFJ), the International Academy of Family Lawyers (IAFL), the International Social Service (ISS), MiKK, Missing Children Europe and Reunite, as well as from the Permanent Bureau of the Hague Conference on Private International Law (HCCH), met in Valletta, Malta, for the Fourth Malta Conference on cross-frontier child protection and family law ("Malta IV") within the "Malta Process".
Guided by the principles set out in the 1989 United Nations Convention on the Rights of the Child, and building on the Malta Declarations of 2004, 2006 and 2009, as well as on successful outcomes of regional seminars and bilateral meetings, the participants unanimously agreed upon Conclusions and Recommendations of the meeting, available here.
Malta IV was hosted by the Government of Malta, in collaboration with the HCCH. The Malta Process promotes co-operation with countries with legal systems influenced by or based upon Shari'a law, for the international protection of children and the resolution of complex, trans-frontier family conflicts.
In the light of the hypothetical cases studied at the meeting, experts recognised the utility of finding solutions to the difficulties encountered in the area of international child protection, affecting the fundamental rights of children, through reinforced international co-operation and, in particular, through accession to or ratification of certain Hague Children's Conventions.
The experts recognised that the 1980 Child Abduction Convention, the 1996 Child Protection Convention and the 2007 Child Support Convention support a number of key principles expressed in the 1989 United Nations Convention on the Rights of the Child, all in the best interests of children. The experts noted that these Hague Children's Conventions are designed to be global in reach and to be compatible with diverse legal traditions. Experts underlined the important benefits of the Hague Children's Conventions for States Parties.
- group photo -
---