Cuba Joins the 1996 Hague Child Protection Convention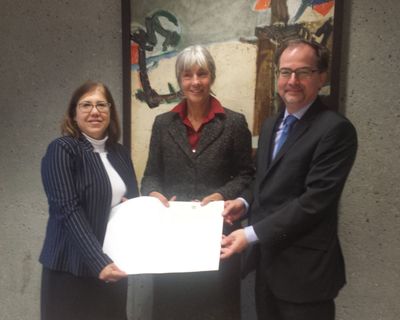 On Monday 20 February 2017, the Republic of Cuba deposited its instrument of accession to the Hague Convention of 19 October 1996 on Jurisdiction, Applicable Law, Recognition, Enforcement and Co-operation in Respect of Parental Responsibility and Measures for the Protection of Children. With the accession of Cuba, the Convention now has 48 States which have signed, ratified or acceded to the instrument. The 1996 Convention will enter into force for Cuba on 1 December 2017. Cuba is currently Party to one other Hague Convention, namely the 1993 Intercountry Adoption Convention.
At the ceremony, which took place at the Ministry of Foreign Affairs of the Netherlands, the Embassy of the Republic of Cuba was represented by H.E. Mrs Soraya Alvarez Núñez, Ambassador and Permanent Representative to International Organisations and Ms Katia Aruca Chaple, Third Secretary. The Ministry of Foreign Affairs of the Netherlands was represented by Ms Coos 't Hoen, Head of the Treaties Division, and Mr Mark Groen, Senior Legal Officer, Treaties Division. Secretary General Christophe Bernasconi represented the Permanent Bureau of the Hague Conference on Private International Law.
---