Over 200 Experts Meet in The Hague to Review the Practical Operation of the Hague Abduction and Child Protection Conventions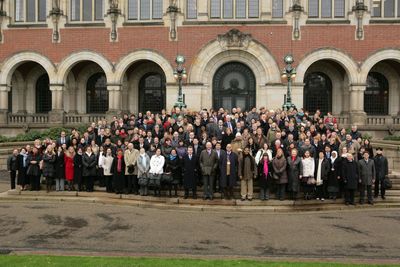 The Hague Conference on Private International Law will convene Part II of the Sixth Special Commission Meeting to review the practical operation of the 1980 Hague Child Abduction Convention and the 1996 Hague Child Protection Convention from 25 to 31 January 2012. Both Conventions are important, widely ratified multilateral instruments which protect the safety and welfare of children all over the world. Part II of the Special Commission will differ from Part I in that it will focus more on policy pertaining to the Conventions rather than on operation and practice.
The 1980 Hague Child Abduction Convention applies typically where one parent has moved a child abroad without the consent of the other parent and without the permission of a court. In such a case, the "left behind" parent may apply through the Hague system for the prompt return of the child, and a "return order" will be issued unless the "taking parent" can establish that one of the exceptions found in the Convention should be applied. The Convention has been ratified or acceded to by 87 States.
The 1996 Hague Child Protection Convention provides for co-operation among States Parties on a wide range of cross-border child protection matters, e.g., parental disputes over contact with children, the protection of runaway children and cross-border care. The Convention currently counts 33 Contracting States, with many more States preparing to join. Most European Union States are already Parties to the Convention. Those EU States which are not yet Parties will become so in the near future.
The Special Commission programme includes, among other things, presentations and discussions on:
the enforcement of mediated agreements;
grave risk of harm defence in return proceedings;
international family relocation; and
the future of the Malta Process, a dialogue between senior judges and high ranking government officials from Contracting States to the 1980 and 1996 Conventions and non-Contracting States with Sharia based law. The Process is aimed at improving State co-operation in order to assist with resolving difficult cross-border family law disputes in situations where the relevant international legal framework is not applicable.
Conclusions and Recommendations of the Special Commission on the above topics, as well as other items discussed, will be issued following the closing of the meeting.

---