Latin American Judges' Seminar: The Hague Children's Conventions and Cross-Border Protection of Children within Latin America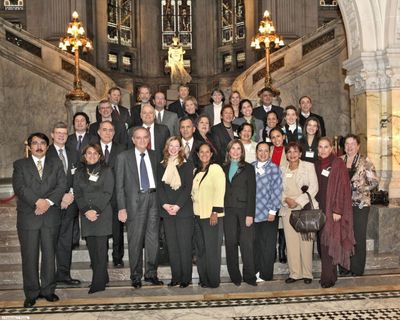 On 28 November - 3 December, 2005, 18 Judges, from Argentina, Canada, Chile, Colombia, Costa Rica, Dominican Republic, Ecuador, El Salvador, Guatemala, Mexico, Panama, Paraguay, Peru, United States of America, Uruguay, and Venezuela met in The Hague, The Netherlands, to discuss how to improve, among the countries represented, the operation of the three modern Hague Children's Conventions addressing international child abduction, intercountry adoption, and matters of child protection, as well as the ongoing discussions related to a worldwide Convention on international child support and other forms of family maintenance, and other Hague Conventions dealing with judicial and administrative co-operation in general.
The Seminar consolidated the advances made by the 2004 Monterrey Seminar, and the network of Judges established in such Seminar who are committed to continued improvement in the operation of the Hague Child Abduction Convention in particular, but also more generally to international judicial and inter-State co-operation to improve international child protection.
Agreement was reached on 44 Conclusions and Recommendations.
[Click to read the opening and closing remarks of the Secretary General (in Spanish only)]
* * *
Entre el 28 de noviembre y el 3 de diciembre de 2005, 18 Jueces, de Argentina, Canadá, Chile, Colombia, Costa Rica, Ecuador, El Salvador, Estados Unidos de América, Guatemala, México, Panamá, Paraguay, Perú, República Dominicana, Uruguay, y Venezuela se reunieron en La Haya, Reino de los Países Bajos, para discutir como mejorar, entre los países representados, el funcionamiento de los tres modernos Convenios de La Haya de Niñez, relativos a la sustracción internacional de menores, la adopción internacional, y la protección de niños, así como las discusiones en curso relativas a un Convenio global sobre alimentos y otras formas de manutención de la familia, y sobre otros Convenios de La Haya sobre cooperación judicial y administrativa, en general.
El Seminario consolidó los avances alcanzados en el Seminario de Monterrey de 2004, y la red de jueces, establecida en dicho Seminario, quienes están comprometidos en continuar mejorando la aplicación en especial, del Convenio de La Haya sobre Sustracción de Menores, y también de una manera más general la cooperación judicial internacional y la cooperación entre Estados para mejorar la protección internacional de los niños.
Se acordaron 44 Conclusiones y Recomendaciones.
Palabras de Apertura del Secretario General | Palabras de Clausura del Secretario General
---