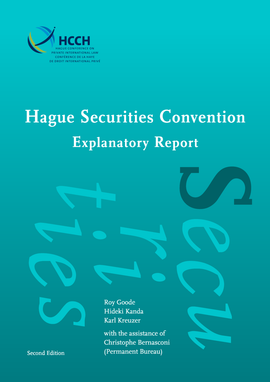 Authors: Roy Goode, Hideki Kanda, Karl Kreuzer with the assistance of Christophe Bernasconi
The Explanatory Report provides the authoritative and most comprehensive explanations of the Convention and its operation. It comprises two parts: the General Introduction (Part A)and the Commentary on the Articles of the Convention (Part B). Part A provides a useful overview of the Convention including a brief history of the negotiations, as well as the Convention's key features. Part B provides a full, article-by-article commentary of the Convention text, which is complemented by various practical examples to more effectively illustrate the operation of the provisions.
This second, redesigned edition of the Explanatory Report (in both English and French) is available in both paper and electronic format:
Hague Securities Convention – Explanatory Report
2nd edition, 2017, (203 p.)
ISBN: 978-94-90265-76-2
€ 30

An electronic copy of this publication is available for download in:
English | French
Translation of the Explanatory Report is also available in:
Spanish

The Catalogue of HCCH publications and order form are available here.
Conventions (incl. Protocols and Principles)