Explanatory Report on the 2006 Hague Securities Convention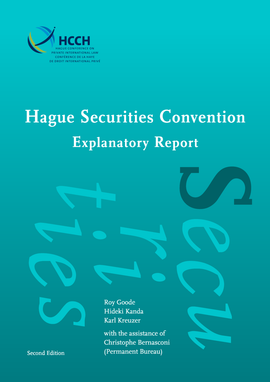 The Explanatory Report provides the authoritative and most comprehensive explanations of the Convention and its operation. It comprises two parts: the General Introduction (Part A)and the Commentary on the Articles of the Convention (Part B). Part A provides a useful overview of the Convention including a brief history of the negotiations, as well as the Convention's key features. Part B provides a full, article-by-article commentary of the Convention text, which is complemented by various practical examples to more effectively illustrate the operation of the provisions.
This second, redesigned edition of the Explanatory Report (in both English and French) is available in both paper and electronic format:
Hague Securities Convention – Explanatory Report
2nd edition (paper version), 2017, (203 p.) - ISBN: 978-94-90265-76-2
€ 30
The paper version of this Second edition can be ordered through our online order form, to be sent by regular mail, email or fax to the Permanent Bureau.
Hague Securities Convention – Explanatory Report
2nd edition (electronic version), 2017, (203 p.) - ISBN: 978-94-90265-76-2
English French
Translation of the Explanatory Report is also available in:
Spanish
Conventions (incl. Protocols and Principles)