Publication of the Proceedings of the Twenty-Second Session of the HCCH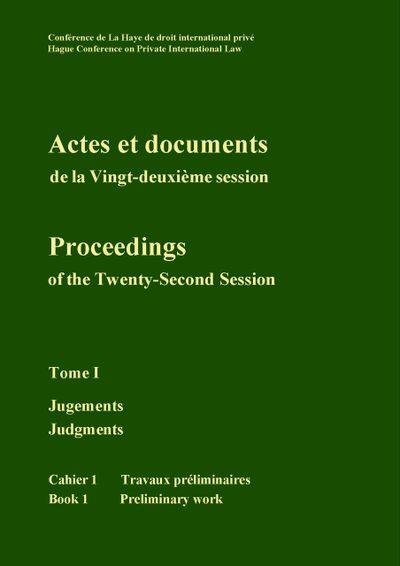 The Permanent Bureau is pleased to announce the publication of the Proceedings of the Twenty-Second Session.
The Twenty-Second Session of the HCCH, held from 18 June to 2 July 2019, resulted in the adoption of the Convention of 2 July 2019 on the Recognition and Enforcement of Foreign Judgments in Civil or Commercial Matters (2019 Judgments Convention).
The Proceedings consist of two volumes. Tome I is divided into five Books as follows:
Book 1 – Preliminary work
Book 2 – Working Group Reports
Book 3 – Special Commission
Book 4 – Diplomatic Session
Book 5 – Explanatory Report
Tome II is devoted to Miscellaneous matters.
The 2019 Judgments Convention entered into force on 1 September 2023, just over four years after its adoption during the Twenty-Second Session of the HCCH. Currently, 28 HCCH Members are bound by the Convention, namely, the EU, all EU Member States (except Denmark) and Ukraine. Uruguay is also a Contracting Party to the Convention. The Convention will enter into force for Uruguay on 1 October 2024 The 2019 Judgments Convention establishes a common framework for the global circulation of judgments in civil or commercial matters, overcoming the complexities arising from differences in legal systems. By providing a minimum standard for the circulation of foreign judgments among Contracting Parties, the Convention promotes access to justice for all and facilitates international trade, investment, and mobility by reducing the risks and costs of cross-border litigation.
The two tomes of the Proceedings of the Twenty-Second Session are available for free download in the Publications & Studies section of the HCCH website, with English and French texts presented side by side.
More information on the 2019 Judgments Convention is available on the Judgments Section of the HCCH website.
---