North Macedonia signs the 2019 Judgments Convention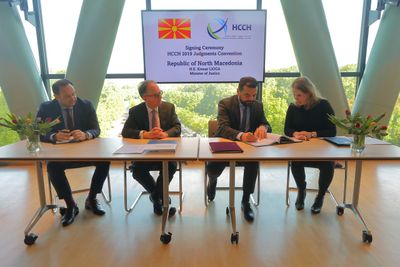 Today, 16 May 2023, H.E. Mr Krenar Lloga, Minister of Justice for North Macedonia, signed, on behalf of the Republic of North Macedonia, the Convention of 2 July 2019 on the Recognition and Enforcement of Foreign Judgments in Civil or Commercial Matters (2019 Judgments Convention).
The 2019 Judgments Convention, which currently has 28 Contracting Parties, will enter into force in September 2023, and for North Macedonia only after the deposit of an instrument of ratification (pursuant to Art. 28(2) of the Convention). More information on this Convention is available on the Judgments Section of the HCCH website.
The ceremony took place at the Malietoren in The Hague, during a seminar on the recognition and enforcement of foreign judgments in the Western Balkans co-organised by the Center for International Legal Cooperation (CILC) and the HCCH. The Ministry of Foreign Affairs of the Netherlands, depositary of the HCCH Conventions, was represented by Ms Pauline Mutinga, Deputy Head of the Treaties Division, and Mr Rieks Boekholt, Legal Officer at the Treaties Division, while the Permanent Bureau of the HCCH was represented by Dr Christophe Bernasconi, Secretary General.
North Macedonia has been a Member of the HCCH since 1993 and is currently a Contracting Party to 10 HCCH Conventions.
---