Russia signs the Judgments Convention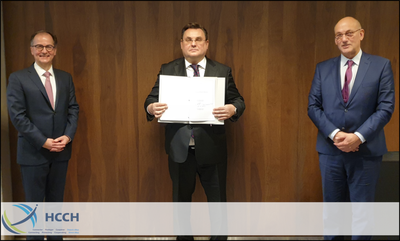 Today, 17 November 2021, the Russian Federation signed the Convention of 2 July 2019 on the Recognition and Enforcement of Foreign Judgments in Civil or Commercial Matters (Judgments Convention).
Although the 2019 Judgments Convention is not yet in force, the Russian Federation is its fifth signatory. More information on this Convention is available on the Judgments Section of the HCCH website.
At the ceremony, which took place at the Ministry of Foreign Affairs of the Netherlands, the Russian Federation was represented by H.E. Mr Konstantin Chuychenko, Minister of Justice, Ms Ekaterina Kudelich, Director of the Department of International Law and Cooperation ad interim of the Ministry of Justice, Mr Kirill Yakimov, Deputy Director of the Department of Organisation and Control of the Ministry of Justice, and Ms Victoria Goncharova, Legal Counsel at the Embassy of the Russian Federation. The depositary was represented by Mr Jules van Eijndhoven, Head of the Treaties Division, and Mr Rieks Boekholt, Legal Officer, while the Permanent Bureau of the HCCH was represented by the Secretary General, Dr Christophe Bernasconi.
Earlier in the day, Minister Chuychenko and the Russian delegation met with Secretary General Bernasconi and Mr Brody Warren, Attaché to the Secretary General and Senior Legal Officer, at the headquarters of the Permanent Bureau, where they discussed a range of issues related to other HCCH Conventions, strategic priorities, and the work programme of the Organisation.
The Russian Federation has been a Member of the HCCH since 2001 and is a Contracting Party to six HCCH Conventions.
---