Costa Rica signs the Judgments Convention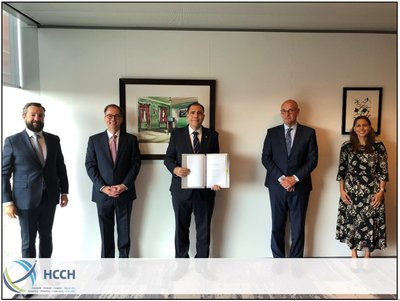 Today, 16 September 2021, the Republic of Costa Rica signed the Convention of 2 July 2019 on the Recognition and Enforcement of Foreign Judgments in Civil or Commercial Matters (Judgments Convention).
Although the 2019 Judgments Convention is not yet in force, Costa Rica is its fourth signatory. More information on this Convention is available on the Judgments Section of the HCCH website.
The ceremony, which took place at the Ministry of Foreign Affairs of the Netherlands, was attended by H.E. Mr Arnoldo Brenes Castro, Ambassador of the Republic of Costa Rica, and Ms Anna María Oduber Elliott, Minister Counselor and Consul General, from the Embassy of Costa Rica, Mr Jules van Eijndhoven, Head of the Treaties Division, and Mr Rieks Boekholt, Legal Officer, on behalf of the depositary. The Permanent Bureau of the HCCH was represented by Dr Christophe Bernasconi, Secretary General, and Dr João Ribeiro-Bidaoui, First Secretary.
At the ceremony, H.E. Mr Arnoldo Brenes Castro said "We are pleased to be the fourth signatory of this instrument, and we trust that there will be more signatures soon, so that the Convention becomes a reality, benefiting citizens and businesses from many countries around the world".
Costa Rica has been a Member of the HCCH since 2011 and is a Contracting Party to seven HCCH Conventions.
---