First Anniversary of the Judgments Convention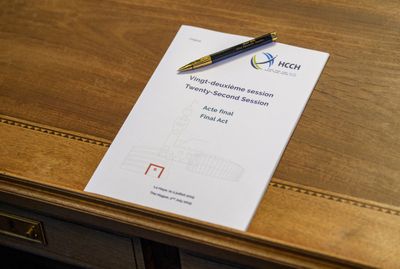 Today marks the first anniversary of the HCCH 2019 Judgments Convention, following its adoption at the Twenty-Second Session of the HCCH on 2 July 2019.
Negotiated by over 400 delegates from around the world, the Convention deals with the recognition and enforcement of foreign judgments in civil or commercial matters. The negotiations which led to the adoption of the Judgments Convention are detailed in the short documentary video produced by the HCCH last year, available here.
Once it enters into force, the Convention will increase legal certainty and predictability, while also reducing both the time and expenses associated with the recognition and enforcement of judgments abroad, ultimately facilitating rule-based multilateral trade and investment and enhancing access to justice for individuals and businesses alike.
As highlighted in the COVID-19 Toolkit recently published by the Permanent Bureau, the widespread adoption and application of the Judgments Convention will be of significant importance for those operating in cross-border situations as the world adjust to the post-COVID-19 reality, greatly facilitating transactional planning and, ultimately, the enforcement of their rights.
Over the past year, the Convention has attracted significant interest from States and the wider legal community. Uruguay was the first signatory to the Convention, signing on the day of its adoption and it has since been followed by Ukraine, which also signed the Convention on 4 March 2020 during the 2020 meeting of the Council on General Affairs and Policy. In addition, Brazil and the European Union have both started broad public consultations in relation to their consideration of the Convention.
Numerous events and publications have already celebrated the new Convention. Following the inaugural conference held in Hong Kong, China, in September 2019, other promotional events are being planned in Europe and North America, emphasising the truly global nature of the Convention and the interest that it has generated in its first year. The Netherlands International Law Review also celebrated this global private international law milestone with the publication of a special issue to which a number of experts directly involved in the negotiations contributed, providing a unique insight to the negotiation history and an analysis of the application of the Convention.
The text of the Convention is available in both English and French, the two official languages of the HCCH. It is now also available in Russian, which is soon to be followed by other languages. The Explanatory Report is currently being finalised and despite its non-binding nature, will serve as an invaluable and authoritative tool to assist in the interpretation and future operation of the Convention.
---