It's done: the HCCH 2019 Judgments Convention has been adopted!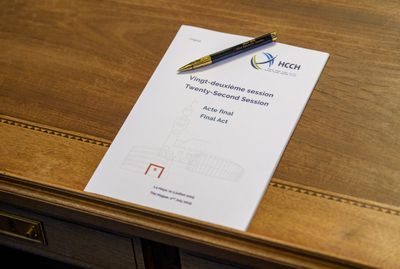 A great day for global justice and the Hague Conference on Private International Law.
On 2 July 2019, the delegates of the 22nd Diplomatic Session of the HCCH signed the Final Act of, and thus adopted, the 2019 Convention on the Recognition and Enforcement of Foreign Judgments in Civil or Commercial Matters.
The signing of the Final Act took place during a ceremony in the Great Hall of Justice in the Peace Palace, The Hague, in the presence of the Minister of Foreign Affairs of the Kingdom of the Netherlands, His Excellency, Mr Stef Blok. The Minister emphasised that the new Convention: "enhances the legal certainty and predictability that is so important in international legal matters especially in international trade..." (his speech is available here; for another picture with H.E. Blok, please click here).
This new Convention will be essential to reducing transactional and litigation costs in cross-border dealings and to promoting effective access to justice for all. It also facilitates rule-based multilateral trade and investment. The Convention will increase certainty and predictability, promote the better management of transaction and litigation risks, and shorten timeframes for the recognition and enforcement of a judgement in other jurisdictions, providing better, more effective, and cheaper justice for individuals and businesses alike. A true gamechanger in international dispute resolution.
The Secretary General of the HCCH, Dr Christophe Bernasconi, stressed that in adopting this Convention, "an important gap in the landscape of private international law has finally been filled by the HCCH." He also stressed, however, that with the adoption of the Convention a new chapter has opened and that the focus now shifts towards the promotion of the Convention. He invited all delegates to be "champions of the Convention" so that "the Convention is taken up by States. That it is implemented correctly. That it operates effectively." Professor Paul Vlas, Chair of the 22nd Diplomatic Session, echoed this sentiment and reiterated that the fast, wide and effective uptake of the Convention by the international community is its next milestone.
A first signal was set immediately when, as part of the closing ceremony, Uruguay signed, as the first State, the new Convention. The Ambassador of Uruguay emphasised that it was "an honour for Uruguay to be among the first countries in signing, today, this modern and innovative convention that will fulfill a necessity that our globalized and interconnected world has been asking for." For a picture of the signing by H.E. Ambassador Dupuy Lasserre, with Mr Jules van Eijndhoven from the Ministry of Foreign Affairs of the Kingdom of the Netherlands, see here.
The HCCH 2019 Judgments Convention is the 40th global instrument adopted by the HCCH since it became a permanent Organisation. The text of the Convention is available here.
The HCCH – Connecting. Protecting. Co-operating. Since 1893.
---