2nd Inter-American Meeting of Central Authorities and International Hague Network Judges on International Child Abduction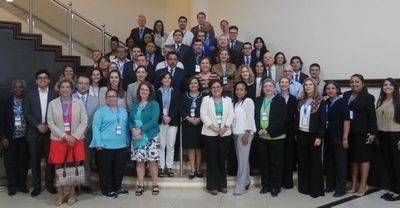 From 29 until 31 March 2017, 62 Hague Network Judges and Central Authority officials, representing 27 jurisdictions met in Panama City to discuss how to improve the operation of the Hague Convention of 25 October 1980 on the Civil Aspects of International Child Abduction (the 1980 Child Abduction Convention). The following jurisdictions were represented at the meeting: Anguilla, Argentina, Bahamas, Belize, Bermuda, Brazil, Canada, Cayman Islands, Chile, Colombia, Costa Rica, Dominican Republic, Ecuador, El Salvador, Guatemala, Honduras, Jamaica, Mexico, Nicaragua, Panama, Paraguay, Peru, Saint Kitts and Nevis, Trinidad and Tobago, United Sates of America, Uruguay, and Venezuela.
The Inter-American Meeting was co-organised by the Ministry of Foreign Affairs of Panama, the Judiciary of Panama, and the HCCH. The meeting also benefited from the support of the Canadian Department of Foreign Affairs, the State Department of the United States of America, as well as the organisation REUNITE.
The general objectives of the Panama Meeting were to address the most challenging aspects of both implementation and operation of the 1980 Child Abduction Convention, including: improvement of co-operation among Central Authorities; identification of means to eliminate unnecessary delays and to ensure that judicial and administrative authorities act expeditiously in proceedings for the return of children; consolidation of the operation of the IHNJ in the Americas (to develop and promote judicial communications and networking among judges); identification and discussion of current challenges in the operation of the Convention in the region and preparation for the Seventh Meeting of the Special Commission to review the practical operation of the 1980 Child Abduction Convention and the Hague Convention of 19 October 1996 on Jurisdiction, Applicable Law, Recognition, Enforcement and Co-operation in Respect of Parental Responsibility and Measures for the Protection of Children, to take place in The Hague in October 2017.
The main focus of discussions at the meeting were to identify obstacles that generate delays both at the Central Authority and Judicial phases of proceedings. Several jurisdictions shared specific implementing measures that have proven successful in avoiding delays. In this regard, participants welcomed the idea of possibly reviewing existing procedures or developing new procedures in their respective States, with a view to reduce delays in the processing of return applications.
The Conclusions and Recommendations of the meeting are available in English, French and Spanish.
---