USA ratifies the 2006 Hague Securities Convention, triggering its entry into force on 1 April 2017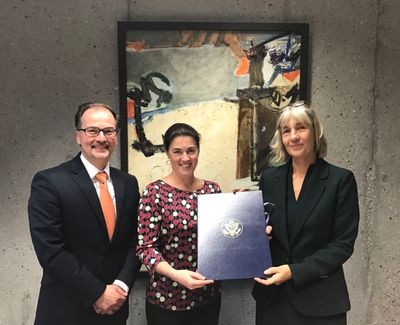 On 15 December 2016, the United States of America (USA) deposited its Instrument of ratification of the Hague Convention of 5 July 2006 on the Law Applicable to Certain Rights in Respect of Securities held with an Intermediary (2006 Securities Convention). The USA had signed the Convention, together with Switzerland, 5 July 2006.
The deposit of the instrument of ratification of the 2006 Securities Convention by the USA is significant in that it will trigger the Convention's entry into force, on 1 April 2017. The USA, Switzerland and Mauritius will then be bound by the Convention.
At the ceremony, which took place at the Ministry of Foreign Affairs of the Netherlands, the Embassy of the United States of America was represented by Ms Sharla Draemel, Legal Counsellor. Secretary General Christophe Bernasconi and Legal Officer Brody Warren represented the Permanent Bureau of the Hague Conference. Ms Coos 't Hoen, Head of the Treaties Division, and Mr Mark Groen, Senior Legal Officer, attended the ceremony on behalf of the Ministry of Foreign Affairs of the Netherlands.
The 2006 Securities Convention provides legal certainty and predictability as to the law governing issues that are of crucial practical importance for cross-border holdings and transfers of intermediated securities. As a result, it markedly improves transactional efficiencies in global securities markets, reduces systemic risk, and facilitate cross-border access to capital.
The Convention deals only with applicable law; it has no effect on the substantive law that will be applied once the conflict of laws determination has been made. Article 4 is the key provision of the Convention, which sets forth the primary conflict of laws rule to determine the law applicable to all the issues falling within the scope of the Convention. This rule is not based on an attempt to 'locate' a securities account, the office at which a securities account is maintained, an intermediary, the issuer, or the underlying securities. Rather, the Convention's primary rule is based on the relationship between an account holder and its intermediary: it gives effect to the express agreement by the parties to an account agreement on the law governing all the issues falling within the scope of the Convention.
The early and firm endorsement received from Group of Thirty (G30), which recommended that this Convention "be ratified as quickly as possible by as many nations as possible", underscores the potential importance of the Convention and will hopefully help to encourage more States to join.
The United States of America, Member of the Hague Conference on Private International Law since 15 October 1964, is now a Contracting State to seven Conventions of the Hague Conference.
---