HCCH International Family Law Briefings, June 2012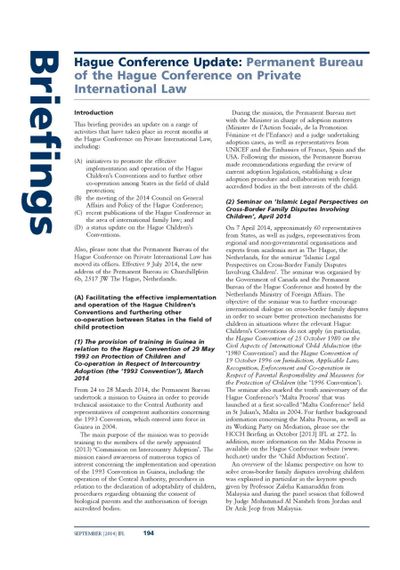 Recently published: the quarterly update, provided by the Permanent Bureau of the Hague Conference on Private International Law, regarding the work of the Hague Conference in the field of international family law.
Contents:
Introduction
Part II of the Sixth Meeting of the Special Commission to review the practical operation of the 1980 Hague Child Abduction Convention and the 1996 Hague Child Protection Convention

(1) The recognition and enforcement of mediated agreements
(2) A legal basis for cross-border direct judicial communications
(3) Allegations of domestic violence in the context of return proceedings
(4) International Family Relocation
(5) The future of the Malta Process
(6) The strategies and services provided by the Hague Conference on Private International Law in relation to the 1980 and 1996 Conventions

Intercountry Adoption Update

Guide to Good Practice No 2 on Accreditation and Adoption Accredited Bodies
Working Group on abduction, sale, and traffic in children
The Intercountry Adoption Technical Assistance Programme: an update

The Hague Children's Conventions: Status Update
Call for Papers: International Conference on Recovery of Maintenance (March 2013)
Download the full Briefing for June 2012 (extract from International Family Law, June 2012, pp. 230-235).
---