HCCH International Family Law Briefings, March 2011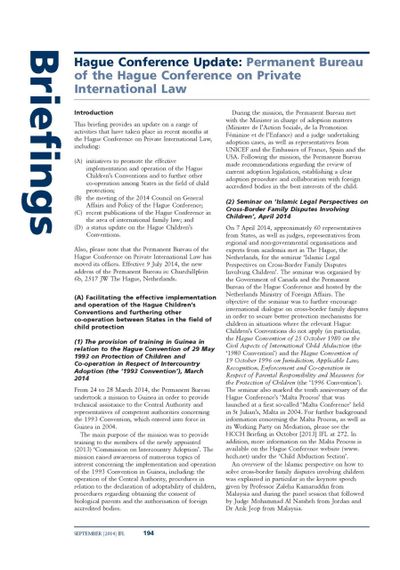 Recently published: the quarterly update, provided by the Permanent Bureau of the Hague Conference on Private International Law, regarding the work of the Hague Conference in the field of international family law.
Contents:
Introduction
Morocco Judicial Seminar on Cross-Border Protection of Children and Families, Rabat (Morocco), 13 - 15 December 2010
Publication of a Special Edition of the Judges' Newsletter
Developments Regarding the Guides to Good Practice under the 1980 Hague Child
Abduction Convention

Publication of the Guide to Good Practice on the Enforcement of Return Orders
Expert Group Meeting Regarding the Guide to Good Practice on Mediation

The Hague Children's Conventions: status update
Download the full Briefing for March 2011 (extract from International Family Law, March 2011, pp. 75-76).
---