Oman joins the Apostille Convention as 101st Contracting State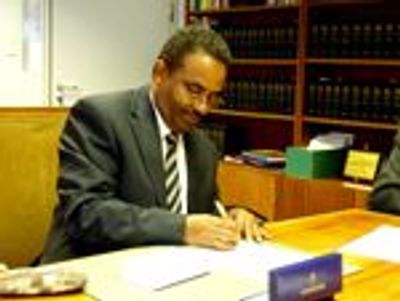 On Thursday 12 May 2011, the Ambassador of the Sultanate of Oman, H.E. Mr Sayyid Mohammed Harib 'Abdallah Al-Said, deposited Oman's instrument of accession to the Convention of 5 October 1961 Abolishing the Requirement of Legalisation for Foreign Public Documents ("Apostille Convention"). As a result, Oman has become the 101st Contracting State to the Apostille Convention.
In a short ceremony at the Ministry of Foreign Affairs of the Netherlands, which was attended by First Secretary Christophe Bernasconi and Legal Officer Alexander Kunzelmann, the Ambassador noted that Oman's accession to the Convention marked a "historic day". In a speech following the accession, His Excellency made the following remarks:
The Sultanate of Oman has long recognised the importance of this treaty in reducing bureaucratic procedures and escalating costs in the legalisation of public documents. Signatory states no doubt enjoy many advantages and benefits from the recognition of their documents [...]. While procedures are extremely streamlined and reduced following accession, the mechanisms in place and tools that are used, sufficiently ensure that chequered or fraudulent documents are monitored and exposed. There is scope for further development in strengthening the safeguards either through technology or human capital. In both areas my country would like to express its willingness to play a constructive role in the realisation of this endeavour.
The accession of Oman is significant as the first State of the Persian Gulf to join the Apostille Convention. It is also the first Hague Convention to which Oman will become party, making it the 139th State or organisation to be "connected" to the Hague Conference (i.e., by being a Member of the Hague Conference, or either signatory or Contracting State to at least one of the Hague Conventions).
---