Publication of Guide on Transfrontier Contact Concerning Children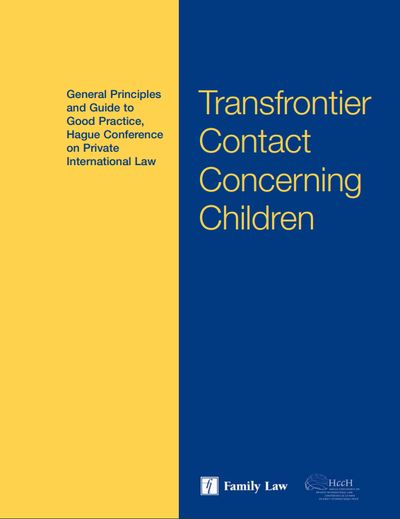 Transfrontier Contact Concerning Children
The Permanent Bureau is pleased to announce the publication of General Principles and Guide to Good Practice on Transfrontier Contact Concerning Children. The purpose of this Guide is to draw attention to certain general considerations and special features which need to be borne in mind by States and their authorities when formulating policies in respect of international access/contact cases. The Guide provides an overall model or template for constructing an international system of co-operation designed to secure effective respect for rights of contact.
It is aimed at all States, not only those signatory to the Hague Convention of 25 October 1980 on the Civil Aspects of International Child Abduction or the Hague Convention of 19 October 1996 on Jurisdiction, Applicable Law, Recognition, Enforcement and Co-operation in Respect of Parental Responsibility and Measures for the Protection of Children. As well as offering general advice to States in formulating policy in this area; the general principles could be helpful to Central Authorities in informing their practice. They could possibly also be helpful to the courts and other authorities, as well as to applicants as they present their cases.
The Guide looks at all the different aspects of transfrontier contact starting with the importance of contact to children. Areas examined include mediation and parental agreement, inter-State administrative co-operation, the processing of international applications concerning contact by the competent authorities, making, modifying and enforcing cross-border contact orders, relocation and contact with the left-behind parent and the interpretation of Article 21 of the 1980 Hague Convention.
---