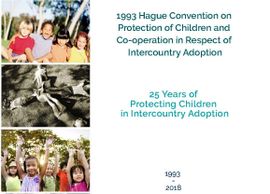 1993 – 2018
25TH ANNIVERSARY of the 1993 Hague Convention on Protection of Children
and Co-operation in Respect of Intercountry Adoption
Brochure "Celebrating 25 Years of Protecting Children in Intercountry Adoption"
This Brochure:
- presents the fundamentals of the 1993 Hague Convention in an easily accessible form,
- analyses the main achievements in the past 25 years,
- identifies the remaining challenges, and
- includes the main tools which have been developed over the years by the HCCH and the International Social Service to assist with the implementation of the Convention.
The Hague Convention of 29 May 1993 on Protection of Children and Co-operation in Respect of Intercountry Adoption (Hague Adoption Convention) protects children and their families against the risks of illegal, irregular, premature or ill-prepared adoptions abroad. This Convention, which operates through a system of national Central Authorities, reinforces the UN Convention on the Rights of the Child (Art. 21) and seeks to ensure that intercountry adoptions are made in the best interests of the child and with respect for his or her fundamental rights. It also seeks to prevent the abduction, the sale of, or traffic in children. For further information, see the Outline of the Convention or the more detailed "Information Brochure" on the Convention.
Please note that the Permanent Bureau of the Hague Conference has no mandate to assist in individual adoption cases. If you have a question relating to intercountry adoption and your country is a Party to the 1993 Adoption Convention, please contact the Central Authority designated by your country.