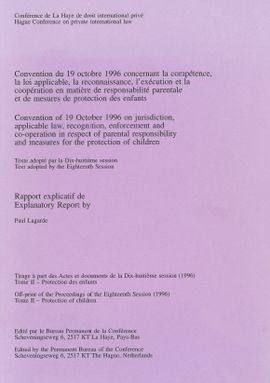 Author: P. Lagarde
Offprint from the Proceedings of the Eighteenth Session (1996), tome II, Protection of children
This publication is available in the following languages:
English / French
ISBN: n.a.
€20.00
Spanish
ISBN: n.a.
€20.00
An electronic copy of this publication is available for download in:
English / French | Spanish
German: inoffizielle Übersetzung, erstellt durch das Bundesministerium der Justiz und das Auswärtige Amt der Bundesrepublik Deutschland
The Catalogue of HCCH publications and order form are available here.
Conventions (incl. Protocols and Principles)