Kick-off Meeting of the HCCH-UNIDROIT Digital Assets and Tokens Joint Project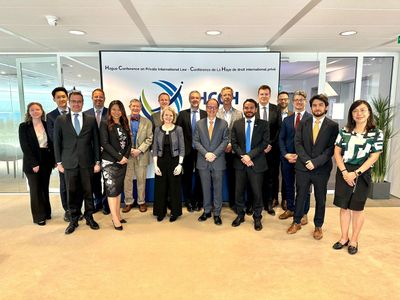 On 12 June 2023, the kick-off meeting of the HCCH-UNIDROIT Joint Project on Law Applicable to Cross-Border Holdings and Transfers of Digital Assets and Tokens was held at the premises of the Permanent Bureau in The Hague in hybrid format.
The Joint Project will examine the desirability of developing coordinated guidance and the feasibility of a normative framework on the law applicable to cross-border holdings and transfers of digital assets and tokens, covering relevant private law aspects. The Joint Project was formally approved by the Council on General Affairs and Policy (CGAP) of the HCCH and the Governing Council of the International Institute for the Unification of Private Law (UNIDROIT) earlier this year.
During the kick-off meeting, representatives of the Permanent Bureau of the HCCH and of the Secretariat of UNIDROIT, as well as the subject-matter experts identified for participation in the Joint Project, gathered to lay the foundation for the preparatory and exploratory work to be conducted over the coming months. A second meeting will take place in the autumn of 2023, to be held at the premises of UNIDROIT in Rome in hybrid format. Intersessional work will take place to inform the discussion at this second meeting.
The Permanent Bureau of the HCCH will report on the results of the project to CGAP in advance of its 2024 meeting, including suggestions on the desirability and feasibility of continuing work on this topic through the establishment of a joint Experts' Group.
---