University of Bonn and HCCH Conference on 2019 Judgments Convention: Registration now open!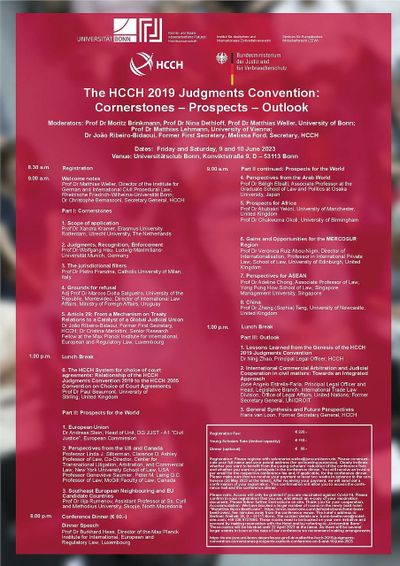 The Permanent Bureau is pleased to advise that registration is open for the Conference on The HCCH 2019 Judgments Convention: Cornerstones – Prospects – Outlook, which will be held in person on 9 and 10 June 2023 at the University of Bonn, Germany. The Conference is co-organised by the University of Bonn and the Permanent Bureau of the HCCH, with the generous support of the Federal Ministry of Justice of Germany.

The Conference draws together internationally well-known scholars, practitioners, and experts from academic institutions and organisations around the world. Speakers will retrace the genesis and examine key features of the 2019 Judgments Convention. Speakers will also share views on how the Convention is expected to fare in each of the regions around the world and the Convention's general prospects and outlook for the future. This Conference is particularly timely given the upcoming entry into force of the Convention on 1 September 2023.
Interested persons are invited to register by writing to sekretariat.weller@jura.uni-bonn.de. For a detailed programme and registration information, please visit the Conference's webpage.
---