Publication of the HCCH 2022 Annual Report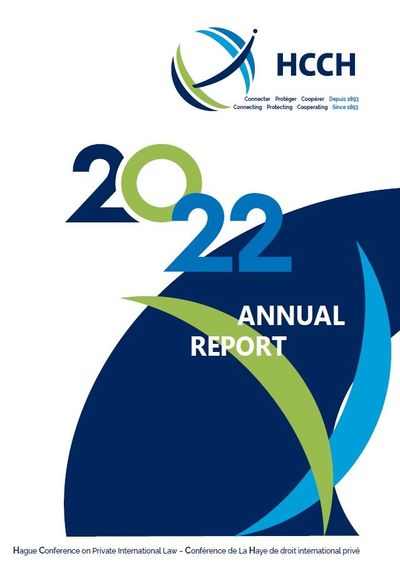 The Permanent Bureau is pleased to announce the publication of the HCCH 2022 Annual Report.
Throughout the past year, the HCCH continued to advance its legislative work and to promote the effective operation of its Conventions, successfully convening the meetings of two Experts' Groups, three Working Groups, and three Special Commissions, the latter tasked with reviewing the practical operation of, respectively, the 1993 Adoption Convention, the 2007 Child Support Convention and its Protocol, and the 2000 Protection of Adults Convention.
Other notable highlights included the organisation of the inaugural edition of the HCCH Conference on Commercial, Digital and Financial Law Across Borders (CODIFI Conference), the long-awaited return of HCCH Asia Pacific Week, hosted on this occasion by the Philippines, and the celebration of the 10th anniversary of the Regional Office for Asia and the Pacific (ROAP).
In parallel with these and many other developments, in 2022 the HCCH network continued to expand, as it welcomed a new Member, El Salvador, and witnessed 10 new signatures, accessions, or ratifications of HCCH Conventions and instruments, which continued to attract international interest. These included the European Union's accession to and Ukraine's ratification of the 2019 Judgments Convention, the newest HCCH Convention, which triggers its entry into force on 1 September 2023.
Presenting the Annual Report at the opening session of the 2023 Council on General Affairs and Policy, Secretary General Christophe Bernasconi thanked the HCCH's Members and partners from across the globe for their generosity and commitment to the Organisation, as well as the members of the Permanent Bureau for their unflagging dedication, fundamental to the successes of the past year and to the promising course set for 2023.
The 2022 Annual Report is available for download in English and French.
---