HCCH a|Bridged – Edition 2021: Publication now available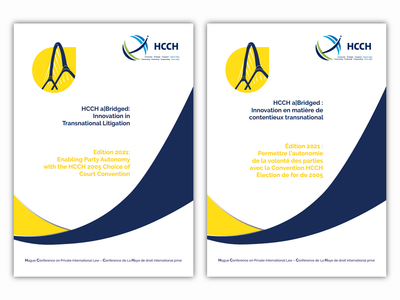 The Permanent Bureau is pleased to announce the launch of the post-event publication of HCCH a|Bridged - Edition 2021.
Held online in December 2021, the latest edition of the HCCH a|Bridged series focused on contemporary issues relating to the application of the Convention of 30 June 2005 on Choice of Court Agreements (the 2005 Choice of Court Convention), including the promotion of party autonomy. The HCCH a|Bridged series, an initiative introduced by the HCCH in 2019, provides an annual forum on innovation in transnational litigation, civil procedure, and dispute resolution.
HCCH a|Bridged - Edition 2021 featured interventions by Dr Christophe Bernasconi, Secretary General of the HCCH, Prof Trevor Hartley, co-author of the Explanatory Report on the 2005 Choice of Court Convention, and Dr Ning Zhao, Senior Legal Officer at the HCCH, followed by two panel discussions. The first panel, moderated by Dr João Ribeiro-Bidaoui, First Secretary at the HCCH, and comprised of judges from both civil and common law jurisdictions, focused on policy discussions on the benefits of joining the Convention for States, including in the context of the global emergence of international commercial courts. The second panel, comprised of lawyers and academics from Latin America and the Caribbean, focused on the benefits of the Convention to business and, by extension, practitioners, with Louise Ellen Teitz, Professor at Roger Williams University, as moderator. Closing remarks were provided by Ignacio Goicoechea, Representative of the Regional Office for Latin America and the Caribbean, and Paula Maria All, President of ASADIP.
The post-event publication expands on these discussions through written contributions from each of the event's speakers. It is now available for download in English and French, and Spanish.
The recordings of HCCH a|Bridged – Edition 2021 are available on the HCCH YouTube channel. Additional information on HCCH a|Bridged - Edition 2021 is available in the Choice of Court Section of the HCCH website.
---