Publication of the HCCH 2021 Annual Report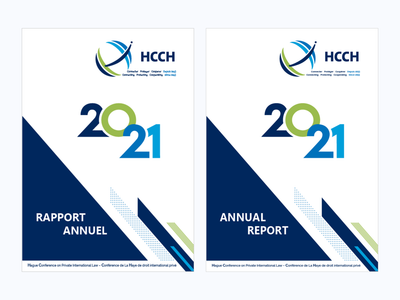 The Permanent Bureau is pleased to announce the publication of the HCCH 2021 Annual Report.

Throughout the past year, the HCCH continued to advance its legislative work and to promote the effective operation of its Conventions, successfully convening the meetings of five Experts' Groups and five Working Groups via videoconference. The Special Commission on the practical operation of the 1961 Apostille Convention held its fifth meeting, coinciding with the celebration of the 60th anniversary of the Convention. Another milestone was the 25th anniversary of the 1996 Child Protection Convention, celebrated with a series of events and competitions comprising the HCCH|Approach Initiative.

In parallel with these and many other developments, the HCCH network continued to expand. We welcomed four new Members in 2021: Namibia, Thailand, Mongolia, and lastly, Honduras, the 90th Member of the HCCH. HCCH Conventions continued to attract international interest, with 10 new signatures, accessions, or ratifications in 2021. These included three new signatures to the 2019 Judgments Convention, the newest HCCH Convention, as well as Indonesia's accession to the 1961 Apostille Convention, which made it the 156th Party to be connected to the work of the HCCH.

Presenting the Annual Report at the opening session of the 2022 Council on General Affairs and Policy, Secretary General Christophe Bernasconi thanked the Organisation's Members and staff for their commitment and support amidst extraordinary circumstances, support which has been fundamental to the successes of the past year and to the promising course set for 2022.

Paper copies of the 2021 Annual Report can be ordered here.
---