The Philippines signs the Child Support Convention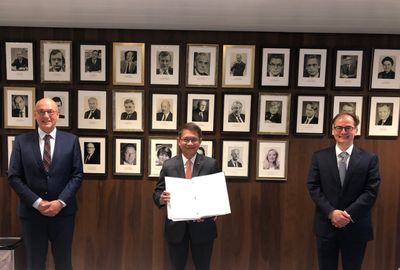 Today, 18 February 2022, the Ambassador of the Republic of the Philippines to the Netherlands, H.E. Mr J. Eduardo Malaya, signed, on behalf of his Government, the Convention of 23 November 2007 on the International Recovery of Child Support and Other Forms of Family Maintenance (Child Support Convention).
The ceremony took place at the Ministry of Foreign Affairs of the Netherlands, depositary of the HCCH Conventions. In addition to its Ambassador, the Philippines was represented by Mr Jarie R. Osias, First Secretary and Consul, and Ms Marisar Ivy Cabatingan, Legal Officer and Attaché, with the participation via videoconference of Prof. Elizabeth Aguiling-Pangalangan, Justice Angelene Mary Quimpo-Sale, Assistant Secretary Glenda D. Relova and Assistant Secretary Igor G. Bailen. The depositary was represented by Mr Jules van Eijndhoven, Head of the Treaties Division, and Mr Rieks Boekholt, Legal Officer, while the Permanent Bureau of the HCCH was represented by Dr Christophe Bernasconi, Secretary General, and Mr Philippe Lortie, First Secretary.
The Convention will enter into force for the Philippines further to the deposit of its instrument of ratification. At present, 42 States and the European Union are bound by the Child Support Convention. More information is available on the Child Support Section of the HCCH website.
The Republic of the Philippines has been a Member of the HCCH since 2010 and is a Contracting Party to four HCCH Conventions.
---