Meeting of the Experts' Group on the e-APP and New Technologies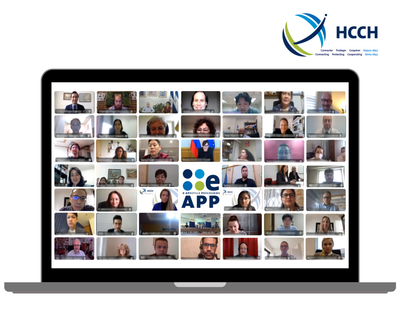 The Experts' Group on the e-APP and New Technologies met from 3 to 6 May 2021 via videoconference. The meeting was attended by over 100 participants representing 28 Members, and members of the Permanent Bureau.
The Group was mandated by the Council on General Affairs and Policy (CGAP) to explore whether broader use of new technologies may further enhance the electronic Apostille Programme (e-APP), in particular in relation to e-Registers. The e-APP, launched in 2006, plays an integral role in the secure and effective operation of the Apostille Convention. The Group discussed the current use of the e-APP, and future solutions. The Group endorsed a set of key principles and good practices for Contracting Parties in the implementation of the e-APP, and invited the PB to develop an online forum to facilitate intersessional discussion and information sharing‑, including in relation to best practices, between meetings of the Special Commission and the International Forum on the e-APP.
A Report from the Chair of the Experts' Group, including Conclusions & Recommendations, is available here. More information on the 1961 Apostille Convention and the e-APP is available on the Apostille Section of the HCCH website.
---