New Guide for International Commercial Contracts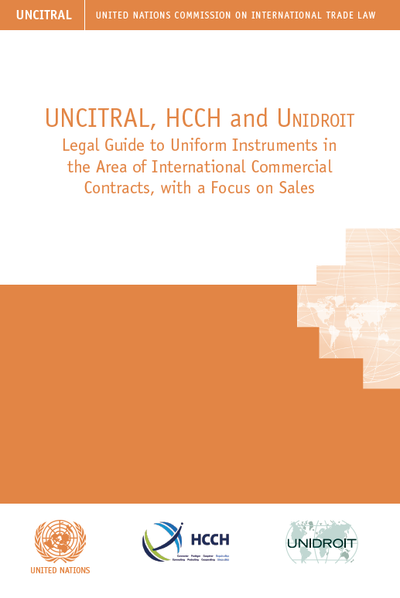 The Permanent Bureau is pleased to announce that the Legal Guide to Uniform Instruments in the Area of International Commercial Contracts, with a Focus on Sales (Legal Guide), a joint publication of the Secretariats of UNCITRAL, UNIDROIT and the HCCH, has been officially launched today (video announcement).
The Legal Guide, which was approved by each of the three Organisations in the course of 2020, offers an overview of the principal legislative texts prepared by each organisation, such as the United Nations Convention on Contracts for the International Sale of Goods, the HCCH Principles on Choice of Law in International Commercial Contracts and the UNIDROIT Principles on International Commercial Contracts. It also illustrates how these texts interact to achieve the shared goals of predictability and flexibility. The Legal Guide will be a user-friendly resource for those interested in the adoption, application, and interpretation of uniform contract law.
The three Organisations would like to thank Professors Neil Cohen (USA), Lauro da Gama e Souza Jr (Brazil), Hiroo Sono (Japan), Pilar Perales Viscasillas (Spain) and Stefan Vogenauer (Germany), for their significant contribution towards the preparation of the Legal Guide.
The Legal Guide is now available in English and will soon be released in other United Nations languages.
The Legal Guide is another successful joint publication of the three "sister" organisations, following their work on Security Interests in 2012.
---