Singapore accedes to the Apostille Convention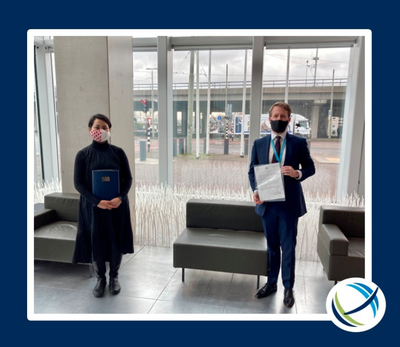 Today, 18 January 2021, the Republic of Singapore deposited its instrument of accession to the HCCH Convention of 5 October 1961 Abolishing the Requirement of Legalisation for Foreign Public Documents (Apostille Convention).

On behalf of the Embassy of Singapore, Minister-Counsellor Davinia Aziz deposited the instrument and is pictured with Mr Rieks Boekholt, Legal Officer, representing the depositary, the Treaties Division of the Ministry of Foreign Affairs on the Netherlands.

With the accession of Singapore, the Apostille Convention now has 120 Contracting Parties. Singapore is the third ASEAN Member State to join the Apostille Convention. It will enter into force for Singapore on 16 September 2021. More information on this Convention is available on the Apostille Section of the HCCH website.

Singapore has been a Member of the HCCH since 2014 and is now a Contracting Party to four HCCH Conventions.
---