Serbia signs the 2007 Child Support Convention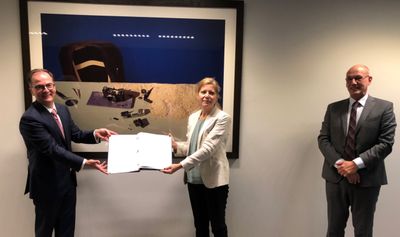 On 16 September 2020, Serbia signed the Convention of 23 November 2007 on the International Recovery of Child Support and other Forms of Family Maintenance ("Child Support Convention").
The next step for the Child Support Convention to enter into force in Serbia is ratification. Serbia is a Member of the HCCH (since 2001) and currently party to 12 other HCCH instruments.
The signing ceremony took place at the Ministry of Foreign Affairs of the Netherlands (i.e. the Depositary). Serbia was represented by H.E. Ms Ksenija Milenković, Ambassador, Ms Marija Stajic-Radivojsa, First Counsellor. On behalf of the Depositary, Mr Jules van Eijndhoven, Head of the Treaties Division and Mr Rieks Boekholt, Legal Officer, attended the ceremony. The Permanent Bureau of the HCCH was represented by Secretary General Dr Christophe Bernasconi.
Currently 40 States are bound by the Child Support Convention. More information is available on the Child Support section of the HCCH website.
---