Gamechanger for cross-border litigation in civil and commercial matters to be finalised in the Hague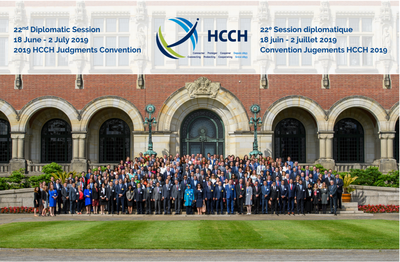 On 18 June 2019, more than 400 delegates will gather in The Hague to finalise a much-wanted and long-awaited global multilateral treaty on the free circulation of judgments on civil or commercial matters across borders, a fundamental tool to promote international access to justice.
A much-wanted HCCH Convention
The HCCH 2019 Judgments Convention will be important for anyone who has cross-border private or business relationships as it ensures that successful cross-border litigants can vindicate their judicially established rights through a simple, effective and predictable recognition and enforcement of civil or commercial judgments internationally.
The Convention will apply to a wide variety of judgments, including those deciding contractual, tortious, rental and many other disputes. This will provide meaningful relief for many — such as the entrepreneur who was not paid by an international business partner. Having obtained a local judgment, the entrepreneur will be able to enforce it despite the business partner being abroad. Or the tenant who successfully sued a holiday house owner over a defect that caused damage. The tenant can enforce the judgment where the house owner resides, or where the holiday house is located.
Micro, small and medium enterprises, consumers, expats and many others will face the challenges of cross-border dealings with more legal certainty and less legal risks.
Gamechanger in international dispute resolution
The HCCH 2019 Judgments Convention is long awaited. Started in 2011, negotiations have been complex. The matter is sensitive. It concerns the powers of courts, a core aspect of States' sovereignty. However, when the HCCH 2019 Judgments Convention is finalised on 2 July 2019, it will be one global framework according to which judgments can circulate from one State to another. It will provide a legal regime that produces certain and predictable outcomes, reduced litigation costs, shortened timeframes and lower risks. It will be a true gamechanger in international dispute resolution. And it will be an essential tool enabling weaker and vulnerable parties to gain better, more effective, and cheaper access to justice.
The Diplomatic Session, 18 June to 2 July 2019
The final negotiations will take place in the Peace Palace's Academy Building from 18 June onwards. The final ceremony for the adoption of the Treaty will take place on 2 July 2019 in the Great Hall of Justice of the Peace Palace. More than 400 delegates, representing 81 States and Observers from around the world, will attend the negotiations and the final ceremony. Delegates include Ministers, Commissioners, members of the judiciary of superior courts, high-ranking public officials, and leading law experts.
On behalf of The Netherlands, the minister of Foreign Affairs, Mr Stef BLOK will be attending the ceremony on the 2nd of July for the signing of the Final Act.
Deputy Mayor of The Hague, Ms Saskia BRUINES: "The Hague Conference of International Private Law is The Hague's oldest international law organisation. It was the Dutchman Tobias Asser who initiated the Conference in 1893 in The Hague. Since then, the HCCH concluded 39 global treaties in 21 Diplomatic Sessions. Each treaty, called Hague Convention, has the goal to unify private international law.
When this new HCCH Convention is adopted, citizens and corporations will be able to vindicate their rights in foreign jurisdictions more easily. This improves access to justice globally – an important goal of the many people in The Hague, International City of Peace and Justice, who work hard to make justice more accessible. We are therefore very proud to host this important meeting in which the Treaty will be adopted. This convention will be a historic moment."
Secretary General of the HCCH, Dr Christophe BERNASCONI: "When adopted on 2 July 2019, this new HCCH 2019 Convention will enhance the practical effectiveness of judgments. As a result, judgments will be recognized and enforced abroad more easily. The advantages are obvious: Certainty. Predictability. Clarity. Simplicity. The reduction of costs, timeframes and risks. Successful litigation parties will have meaningful relief – not just a nice piece of paper called "Judgement" that can be framed. This HCCH 2019 Judgments Convention, will be a gamechanger for cross-border dispute settlement and an apex stone for global efforts to improve real and effective access to justice.
---