HCCH Child Abduction Convention: Practice of Application, Minsk, Belarus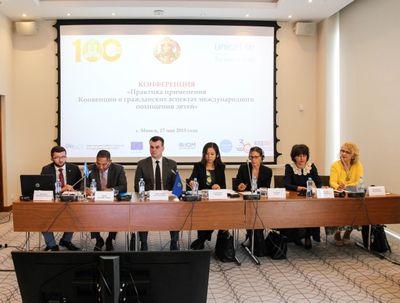 On 17 May 2019, the United Nations' Children Fund (UNICEF) and the Government of the Republic of Belarus co-organised the Conference on the HCCH Convention on the Civil Aspects of International Child Abduction: Practice of Application, in Minsk, Belarus. The event witnessed not only the formal signature of the cooperation plan between Belarus and UNICEF, but also the amendment of the Belarusian enabling legislation in order to ensure the more efficient implementation of the Child Abduction Convention. Participants of the conference, which included judges, government officials and lawyers, discussed the concepts and principles of the Convention, as well as best practices in protecting children's rights and interests in situations that fall within the scope of the Convention.
The Conference was opened by Minister of Justice of Belarus, Oleg Leonidovic Slizhevsky. Opening remarks were also made by Rashed Mustafa Sarwar, the representative of UNICEF in Belarus, and Judge Vera Borisovna Krugova, of the Supreme Court of Belarus. The Permanent Bureau was represented by First Secretary Dr Gérardine Goh Escolar.
---