African Regional Conference on the HCCH Children's Conventions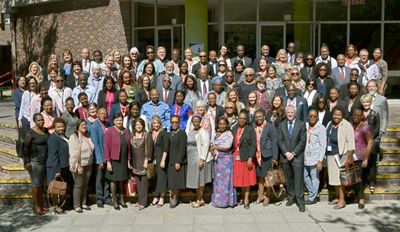 From 2 to 3 April 2019, 149 senior government officials, judges, legal practitioners, academics, social service practitioners, researchers and other experts from Botswana, Burundi, Cabo Verde, Ethiopia, France, Ghana, Guinea, Israel, Japan, Lesotho, Mauritius, Mozambique, Namibia, Netherlands, New Zealand, Nigeria, South Africa, Tanzania, United Kingdom (England and Scotland), United States of America, Zambia and Zimbabwe, as well as UNICEF, the African Child Policy Forum (ACPF) and the Permanent Bureau of the HCCH met in Cape Town, South Africa, in the context of an African Regional Conference on the HCCH Children's Conventions.
Guided by the principles set out in the African Charter on the Rights and Welfare of the Child (1990) and the United Nations Convention on the Rights of the Child (1989) and wishing to protect children across frontiers, especially children who are the victims of sale, trafficking or abduction, children who are the subject of illegal and unethical intercountry adoptions, unaccompanied and separated children, children affected by international parental disputes, children who are the subject of irregular placements abroad, refugee or internationally displaced children, the participants unanimously agreed upon Conclusions and Recommendations of the meeting, available here.
The aim of the African Regional Conference was to promote the implementation of the HCCH Children's Conventions in Africa, discuss their operation, and invite States in Africa to consider becoming Contracting Parties to the HCCH Children's Conventions as well as becoming Members of the HCCH. The Conference was co-organised by the Faculty of Law of the University of the Western Cape, the International Academy of Family Lawyers, Miller du Toit Cloete inc., and the HCCH.
---