Brazil accedes to the Service Convention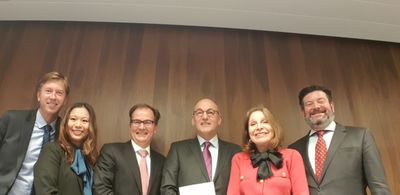 On 29 November 2018, Brazil deposited its instruments of accession to the Convention of 15 November 1965 on the Service Abroad of Judicial and Extrajudicial Documents in Civil or Commercial Matters (Service Convention). With the accession of Brazil, the Service Convention now has 74 Contracting Parties. The Service Convention will enter into force for Brazil on 1 June 2019.
At the ceremony, which took place at the Ministry of Foreign Affairs of the Netherlands (i.e., the Depositary for the Hague Conventions), H.E. Mrs Regina Maria Cordeiro Dunlop, Ambassador of Brazil, Mr Luiz Otávio Ortigão de Sampaio, Counselor, represented the Embassy of Brazil. On behalf of the Depositary, the Deputy Head of the Treaties Division, Mr Jules van Eijndhoven and Senior Legal Officer Mark Groen also attended the ceremony. Secretary General Christophe Bernasconi and First Secretary designate Gerardine Goh Escolar, represented the Permanent Bureau of the Hague Conference on Private International Law (HCCH).
Brazil has been a Member of the HCCH since February 2001, and is now a Contracting Party to eight HCCH Conventions.
---