"Third Regional Workshop on Justice for Children in East Asia and the Pacific"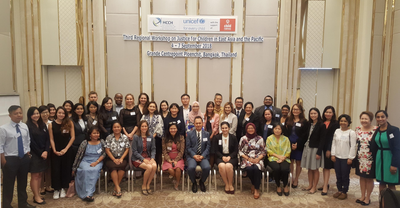 From 4 to 7 September 2018, the "Third Regional Workshop on Justice for Children in East Asia and the Pacific" was held in Bangkok, Thailand. This Workshop was co-organised by the UNICEF Regional Office for East Asia and Pacific (EAPRO) and the Hague Conference on Private International Law (HCCH), with the support of Child Redress. Over 50 professionals, including government officials, judges, legal practitioners, academics and other experts from Fiji, Indonesia, Malaysia, Marshall Islands, Mongolia, Myanmar, Philippines and Thailand as well as representatives and staff from UNICEF, United Nations High Commissioner for Refugees (UNHCR), International Organisation for Migration (IOM), United Nations Action for Cooperation Against Trafficking in Persons (UNACT), International Labour Organisation (ILO) and HCCH, and Child Redress and other NGOs from the aforementioned States as well as from Cambodia, Singapore and Viet Nam, participated in this Workshop.
The aim of the Workshop was to:
examine the role and value of the Hague Children's Conventions in addressing cross-border child protection cases in East Asia and the Pacific, and to discuss some of the practicalities surrounding implementation of those Conventions and the benefits to be derived from becoming a party to them;
understand how the best interests of the child are ensured in child protection measures such as custody and care arrangements and in other family and child protection matters as well as in new areas like surrogacy and migration;
and strengthen the co-ordination between justice professionals, social workers and other experts on issues that affect the international protection of children, including in their role in implementing multilateral treaties and conventions as well as domestic family law.
Conclusions and Recommendations of the HCCH-UNICEF East Asia – Pacific Workshop are available here.
---