HCCH-UNICEF South Asia Workshop on Role of The Hague Conventions in Cross-Border Child Protection in the Region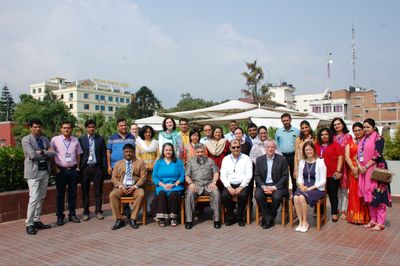 From 29 to 31 May 2018, 31 governmental experts from Afghanistan, Bangladesh, India, Maldives, Nepal and Sri Lanka, UNICEF representatives from these countries as well as from the Regional Office for South Asia (ROSA), representatives from the Permanent Bureau of the Hague Conference on Private International Law (HCCH), the International Social Services (ISS) and three independent consultants met in Kathmandu, Nepal, in the context of a Workshop entitled the "Role of the Hague Conventions in Cross-Border Child Protection in South Asia" co-organised by UNICEF ROSA and the HCCH.
The aim of the Workshop was to discuss the cross-border movement of children from South Asia, and mechanisms to support safe migration. During the workshop, the country teams presented existing mechanisms children use to migrate and to return; the HCCH presented the benefits of becoming a Member of the organisation; the role and value of the Hague Children's Conventions for addressing cross-border child protection issues in South Asia was examined, in particular in the context of irregular migration (e.g., trafficking, unaccompanied children); and some of the practicalities surrounding implementation of these Conventions was discussed. Significant time was devoted to case studies.
Conclusions and Recommendations of the HCCH-UNICEF South Asia Workshop are available here.
---