Montenegro signs the 2005 Choice of Court Convention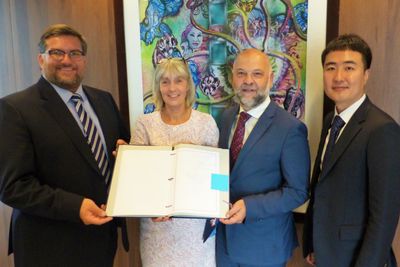 On Thursday 5 October 2017, Montenegro signed the Hague Convention of 30 June 2005 on Choice of Court Agreements (Choice of Court Convention).
The Choice of Court Convention currently has 30 Contracting Parties (incl. REIOs and States bound as a result of approval by an REIO); with Montenegro's signature, there are now an additional 4 States that have signed the Convention.
At the ceremony, which took place at the Ministry of Foreign Affairs of the Netherlands (i.e., the Depositary), the Embassy of Montenegro was represented by H.E. Mr Vladimir Radulović, Ambassador. On behalf of the Depositary, Head of the Treaties Division Ms Coos 't Hoen and Senior Legal Officer Mr Mark Groen also attended the ceremony. Attaché to the Secretary General Mr Thomas John and Judge on secondment Mr Seungwoo Cha represented the Permanent Bureau of the Hague Conference on Private International Law (HCCH).
Montenegro has been a Member of the HCCH since 2007 and is currently bound by 12 Hague Conventions.
---