China signs the 2005 Choice of Court Convention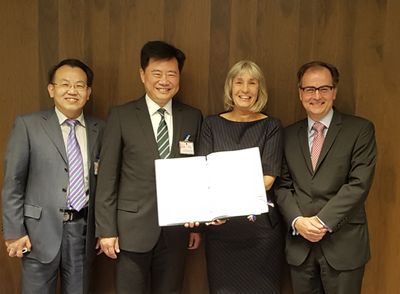 On Tuesday, 12 September 2017, the People's Republic of China signed the Hague Convention of 30 June 2005 on Choice of Court Agreements (Choice of Court Convention).
The Choice of Court Convention currently has 30 Contracting Parties (incl. REIOs and States bound as a result of approval by an REIO). With the People's Republic of China's signature, there are now 3 further States that have signed the Convention.
At the ceremony, which took place at the Ministry of Foreign Affairs of the Netherlands (i.e., the Depositary), the Embassy of China was represented by H.E. Ken Wu, Ambassador of China, Mr Guoshun Sun, Legal Counselor, and Ms Lei Zhao, Second Secretary. On behalf of the Depositary, Head of the Treaties Division Ms Coos 't Hoen and Senior Legal Officer Mr Mark Groen also attended the ceremony. Secretary General Mr Christophe Bernasconi and Senior Legal Officer Ms Ning Zhao represented the Permanent Bureau of the Hague Conference on Private International Law (HCCH).
The People's Republic of China has been a Member of the HCCH since 1987. It is bound by 3 Hague Conventions: the Convention of 15 November 1965 on the Service Abroad of Judicial and Extrajudicial Documents in Civil or Commercial Matters, the Convention of 18 March 1970 on the Taking of Evidence Abroad in Civil or Commercial Matters, and the Convention of 29 May 1993 on Protection of Children and Co-operation in Respect of Intercountry Adoption. Several other Hague Conventions apply to the Special Administrative Regions of Hong Kong and Macao only.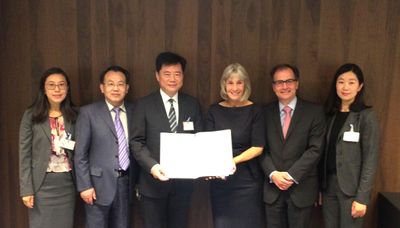 Bewaren
---