Council on General Affairs and Policy – Conclusions & Recommendations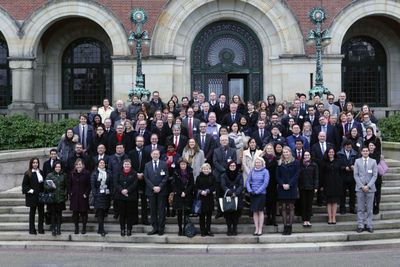 From 14 to 16 March 2017, Members of the HCCH gathered in The Hague for the meeting of the Council on General Affairs and Policy. The Council was attended by 162 participants, representing 67 Members and observers from seven IGO / NGOs.
The Council reviewed the work of the Organisation carried out during the previous year and charted the course for future work. It recognised the very good progress made on the Judgments Project and mandated the Secretary General to convene a third meeting of the Special Commission in November 2017. The Council also welcomed the work of the Experts' Group on Parentage / Surrogacy and instructed the Secretary General to convene a third meeting of this Group in the coming year. Moreover, the Council welcomed plans to hold a Special Commission meeting on the 1980 Child Abduction Convention and 1996 Child Protection in October2017. It also welcomed the imminent entry into force of the 2006 Securities Convention.
The Council welcomed Mr Andrew Walter of Australia as the incoming Chair and expressed its deep gratitude to the outgoing Chair, Mr Antti Leinonen of Finland, for his service and dedication to the Hague Conference.
Additionally, the Council discussed matters relating to governance of the Organisation, the pursuit of universality, and a variety of post-Convention activities.
The full Conclusions & Recommendations are available in English and French.
---