Launch of iSupport - First Meeting of the iSupport Governing Body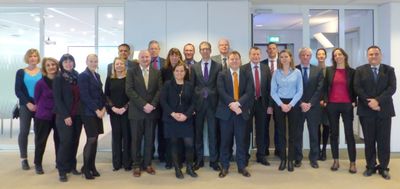 On the occasion of its first meeting held on 18 and 19 January 2017 at the premises of the Permanent Bureau of the Hague Conference on Private International Law, the iSupport Governing Body officially launched iSupport.
iSupport is an electronic case management and secure communication system. It allows an efficient, modern and timely recovery of child support and family maintenance in cross-border cases, under the EU 2009 Maintenance Regulation and the 2007 Hague Child Support Convention. iSupport provides various electronic tools (workflows, assigned tasks, alerts, monitoring of payments, etc.) to assist caseworkers in handling maintenance cases quickly and efficiently. iSupport also includes a secure communication tool (developed by the EU e-CODEX project) used by Central Authorities to transmit applications, messages, documents between States using iSupport. iSupport, an Open Source software released under the EUPL license, will allow States to realise considerable savings and will provide their citizens with effective access to justice.
The iSupport Governing Body comprises representatives from the EU, iSupport partner States, and the CEO of the American company which developed the system (Protech Solutions Inc.). During the meeting, the Governing Body worked on several issues such as the system's maintenance, Governance, security, data protection and the development of further enhancements. The iSupport Governing Body will meet again in the second half of 2017 with a view to follow up on the Conclusions and Recommendations adopted on the occasion of its first meeting.
---