Fourth meeting of the Apostille Special Commission and 10th e-APP Forum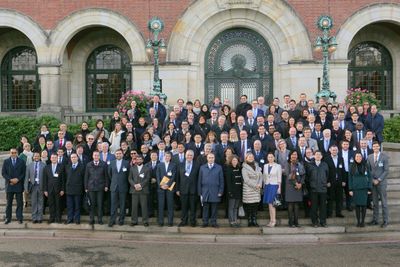 From 2 to 4 November 2016, over 190 experts from over 65 States and international organisations around the world participated in the fourth meeting of the Special Commission on the practical operation of the Hague Convention on Abolishing the Requirement of Legalisation for Foreign Public Documents (Apostille Convention). For the first time, a meeting of the Special Commission was directly preceded by an International Forum on the electronic Apostille Program (e-APP). The 10th International Forum took place on 1 November 2016.

The Apostille Convention is, to date, the most widely ratified and acceded to of the Hague Conventions, with 112 Contracting Parties. Its popularity is due in large part to its significance in the lives of citizens and facilitation of cross-border trade and commerce. As a result, the Apostille Convention has proven to be extremely useful and is applied millions of times each year throughout the world. The e-APP continues to facilitate the effective and secure operation of the Convention and has also experienced an impressive expansion in recent years, with over 200 authorities in 29 Contracting Parties now having implemented one or both components of the e-APP.

The Special Commission meeting provided a unique opportunity for delegations to discuss in detail the operation of the Apostille Convention. The Special Commission welcomed the continued increased in global coverage of the Convention and was particularly encouraged by the presence of experts from States which are not currently party to the Convention but are considering accession. Additionally, the experts of the Special Commission made further progress in their consideration of new developments, including in particular the process of authentication of documents executed by intergovernmental and supranational organisations, as well as the practice of issuing Apostilles at diplomatic of consular missions. Experts also considered more general questions regarding the applicability of the Convention and examined options for further simplifying the Apostille process.

The Conclusions and Recommendations of the Special Commission (to which those of the e-APP Forum are annexed) are now available in English, French and Spanish.
---