Singapore ratifies the 2005 Choice of Court Convention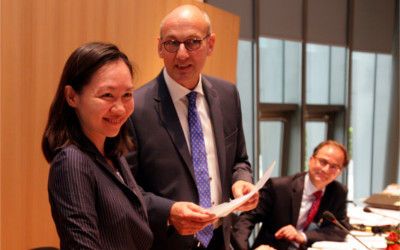 On Thursday 2 June 2016, Ms Thian Yee Sze, Director-General of the Legal Group, Ministry of Law of Singapore, deposited Singapore's instrument of ratification to the Convention of 30 June 2005 on Choice of Court Agreements. The deposit took place during the meeting of the Special Commission on the Recognition and Enforcement of Foreign Judgments.
The ratification of the 2005 Convention by Singapore is a milestone. Singapore is the 30th State/REIO to be bound by the Convention and the first Asian State to join the Convention. The Convention, which entered into force on 1 October 2015, will apply between Singapore and the other Contracting States as from 1 October 2016.
The 2005 Convention has been designed to provide more legal certainty and predictability in relation to choice of court agreements between parties to international commercial contracts. It sets out three main rules: a court chosen by the parties must, in principle, hear the case; any other court before which proceedings are brought must refuse to hear them; and the judgment rendered by the chosen court must be recognised and enforced in other Contracting States.
The Convention's usefulness in facilitating cross-border trade and foreign direct investment has been recognised by relevant stakeholders of the international legal community, such as the International Chamber of Commerce (ICC), the Inter-American Bar Association (IABA) and the Asia Pacific Economic Co-operation (APEC), all of which encourage more States to join the Convention. For more information, see the "Choice of Court Section" of the Hague Conference website.
Singapore has been a Member of the Hague Conference on Private International Law since April 2014 and is already a Contacting State to the Convention of 18 March 1970 on the Taking of Evidence Abroad in Civil or Commercial Matters and the Convention of 25 October 1980 on the Civil Aspects of International Child Abduction.
---