Council on General Affairs and Policy of the Hague Conference – Conclusions & Recommendations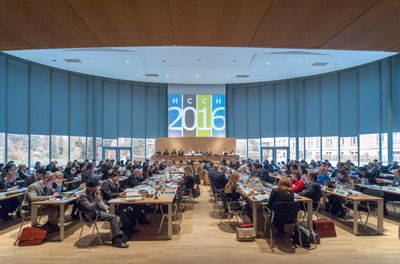 From 15 to 17 March 2016, Members of the Hague Conference gathered in The Hague for the meeting of the Council on General Affairs and Policy. The Council was attended by 219 participants, a new record for this meeting, representing 69 Members, 2 Candidate States and observers from 12 IGO / NGOs.
The Council reviewed the work of the Organisation carried out during the previous year and charted the course for future work. Some of the key decisions included the continuation of the Judgments Project as a priority topic, with a Special Commission meeting to take place in June 2016, as well as the continuation of the Experts' Group to explore the feasibility of advancing work on the Parentage / Surrogacy Project. In addition, the Council endorsed the formation of a sub-group of the Experts' Group on use of video-link and other modern technologies in the taking of evidence and welcomed plans to hold a Special Commission meeting on the 1961 Apostille Convention during the last quarter of 2016.
The Council also elected a new Vice-Chair, Mr Andrew Walter (Australia) and discussed matters relating to governance of the Organisation, the pursuit of universality, and a variety of post-Convention activities.
The full Conclusions & Recommendations are available in English and French.
---