HCCH International Family Law Briefings, December 2013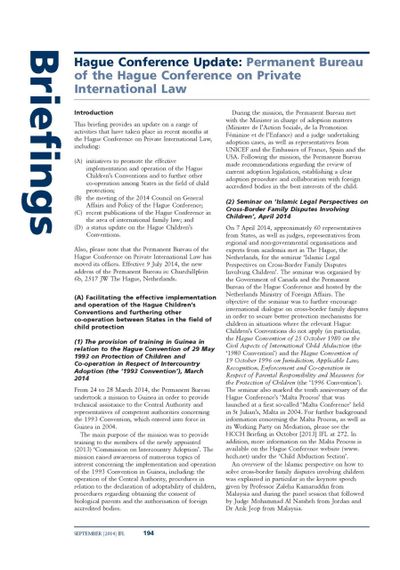 Recently published: quarterly updates, provided by the Permanent Bureau of the Hague Conference on Private International Law, regarding the work of the Hague Conference in the field of international family law.
Contents December 2013:
Introduction
The Hague's International City of Peace and Justice Missions and related developments in the area of International Family Law
Conference celebrating the 15th Anniversary of the International Hague Network of Judges (17 to 19 July 2013)

Background information
Conclusions and Recommendations
The scope of DJC
Designations to the IHNJ
The Value of Annual Reports and Statistics
Promotion of DJC and the IHNJ, including judicial education
Legal Basis for DJC and the appointment of judges to the IHNJ
Resources for Members of the IHNJ
Networks
Reporting case law and experience with DJC
International Family Relocation
Modern technologies and secured communications
Future Meetings of Members of the IHNJ
Regional Offices of the Hague Conference
Acknowledgements
Download the full Briefing for December 2013 (extract from International Family Law, December 2013, pp. 254-357).
---