HCCH International Family Law Briefings, October 2013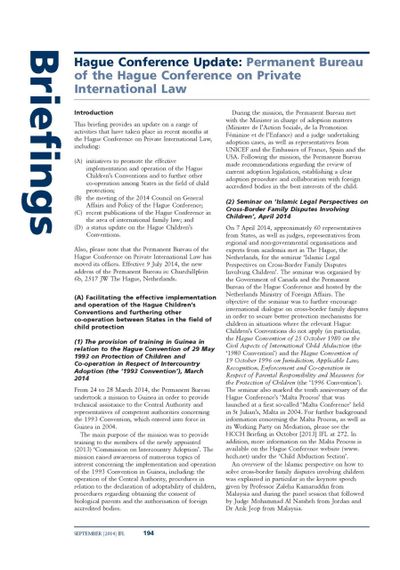 Recently published: quarterly updates, provided by the Permanent Bureau of the Hague Conference on Private International Law, regarding the work of the Hague Conference in the field of international family law.
Contents October 2013:
Introduction
Workshop for East and Southeast Asian States on the 1993 Hague Intercountry Adoption Convention, 27 to 28 March 2013
Intercountry Adoption Technical Assistance Programme: an update

Haiti
Cambodia
Madagascar
Other States


The "Malta Process" and the Working Party on Mediation: an Update

The meeting of the Working Party on Mediation in the context of the "Malta Process" in The Hague, April 2013
The Hague Children's Conventions: Status Update
Download the full Briefing for October 2013 (extract from International Family Law, October 2013, pp. 271-274).
---