HCCH International Family Law Briefings, September 2011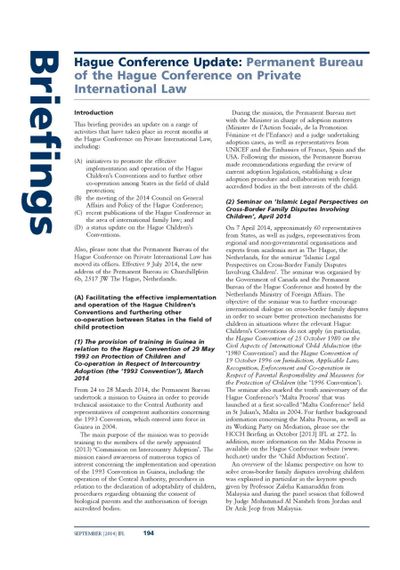 Recently published: the quarterly update, provided by the Permanent Bureau of the Hague Conference on Private International Law, regarding the work of the Hague Conference in the field of international family law.
Contents:
Introduction
Part I of the Sixth Meeting of the Special Commission to review the practical operation of the 1980 Hague Child Abduction Convention and the 1996 Hague Child Protection Convention

(1) Statistical survey of applications made in 2008 under the 1980 Convention
(2) Co-operation among Central Authorities under the 1980 Convention and the processing of applications for return by Central Authorities
(3) Applications concerning access/contact under the 1980 and 1996 Conventions
(4) Domestic violence allegations and return proceedings
(5) Discussion of case-law under the 1980 Convention - interpretation of key concepts
(6) Judicial Networking and Direct Judicial Communications
(7) Consideration of the revised Draft Practical Handbook on the operation of the 1996 Convention (Preliminary Document No 4)
(8) Consideration of the Draft Guide to Good Practice on Mediation under the 1980 Convention (Preliminary Document No 5)
Download the full Briefing for September 2011 (extract from International Family Law, September 2011, pp. 233-236).
---