Launch of the German section of the HCCH website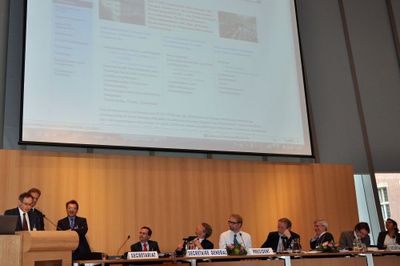 In 1998, the website of the Hague Conference was created in the Organisation's official languages, French and English. To meet the growing demand within the international community to access this information in other languages, a section called "Other languages" was created in 2009 with links to translations of the Hague Conventions and other documents relating to the HCCH in several languages.
After the launch, in March 2009, of the Spanish website section, German is the second language for which a separate site, modelled on the English and French versions, has been created. This was made possible thanks to the Governments of Germany, Austria and Switzerland.
The official launch of the German section of the multilingual site took place on 7 April 2010, during the Council on General Affairs of the Conference.
1998 wurde die Webseite der Haager Konferenz in den beiden offiziellen Sprachen Englisch und Französisch geschaffen. Um der zunehmenden Nachfrage der internationalen Gemeinschaft nach Zugang zu diesen Informationen in anderen Sprachen entgegen zu kommen, wurde 2009 ein Abschnitt mit der Bezeichnung "Other languages" (andere Sprachen) geschaffen, der Links zu Übersetzungen von Haager Übereinkommen und anderen Dokumenten mit Bezug auf die HCCH in verschiedenen Sprachen enthält. Nach Veröffentlichung des spanischen Abschnitts der Webseite im März 2009 ist Deutsch die zweite Sprache, für die eine eigene Seite geschaffen wurde, die der englischen und der französischen Version nachempfunden ist. Der wurde durch die Regierungen Deutschlands, Österreichs und der Schweiz ermöglicht.
Die offizielle Veröffentlichung des Deutschen Abschnittes der vielsprachigen Seite fand am 7.4.2010 während des Rates über Allgemeine Angelegenheiten und die Politik der Konferenz statt.
---