Milestones for the Apostille Convention: Republic of Korea becomes the 90th Contracting State and all EU-Member States soon to be party to the Convention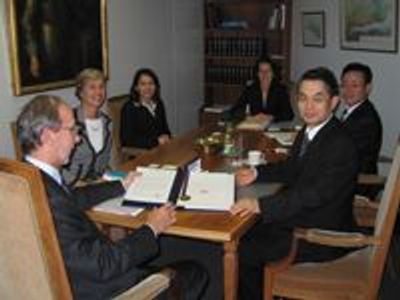 By depositing its instrument of accession, the Republic of Korea today became the 90th Contracting State of the Hague Convention of 5 October 1961 Abolishing the Requirement of Legalisation for Foreign Public Documents (Hague Apostille Convention). The Convention will enter into force for Korea on 14 July 2007.
Korea's accession sets a new benchmark for Hague Conventions in general and further emphasises the global practical importance of the Apostille Convention in particular. The recent accessions of the Republic of Moldova (19 June 2006) and Georgia (21 August 2006), as well as the most recent signing by Denmark (20 October 2006) further accentuate this finding. In this context, it is worth mentioning that the Apostille Convention will soon become the second Hague Convention (after the Child Abduction Convention) to be in force in all the 25 EU-Member States.
The Permanent Bureau is extremely pleased about these developments and wishes to welcome the States mentioned to the ever growing group of Apostille countries.
The Hague Apostille Convention facilitates the circulation of public documents executed in one State Party to the Convention and to be produced in another State Party to the Convention. It does so by replacing the cumbersome and often costly formalities of a full legalisation process with the mere issuance of an Apostille. 45 years after its adoption, the Apostille Convention remains an essential and remarkably modern instrument of judicial and administrative cooperation. The recently launched e-APP (electronic Apostille Pilot Program) will no doubt contribute to strengthening further the important benefits of this Convention.
For more information, please contact Christophe Bernasconi, First Secretary, at cb@hcch.nl.
---