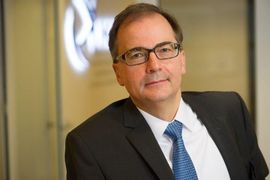 Christophe Bernasconi is the fourth Secretary General of the Hague Conference on Private International Law. He took office on 1 July 2013. He had joined the Permanent Bureau in September 1997 as Secretary, became First Secretary in May 2000 (first in rank in December 2001), and Deputy Secretary General in July 2011.
As Secretary General, Dr Bernasconi is responsible for the administration of the Hague Conference and the operation of its Permanent Bureau. He has long-standing expertise in the field of international civil procedural law (jurisdiction of courts, recognition and enforcement of foreign judgments, service of process and taking of evidence abroad, access to justice, etc.), international administrative co-operation (Apostille; he is the designer and principal administrator of the electronic Apostille Program, e-APP), international commercial and finance law (intermediated securities), as well as international child protection law (parental child abduction, protection of children generally). He has been responsible for various meetings of Special Commissions, Experts' and Working Groups, both in relation to normative work of the Hague Conference and post-Convention services. His current focus is on developing and implementing various management improvement initiatives at the Permanent Bureau, and on furthering the global visibility of the Hague Conference.
He holds a law degree from Fribourg University in Switzerland (magna cum laude; bilingual German/French), an LL.M. degree in comparative law from McGill University in Montreal (Canada), and a doctoral degree in Private International Law from Fribourg University (summa cum laude).
Before joining the Permanent Bureau, Dr Bernasconi lectured at the University of Fribourg, worked as Legal Expert at the Swiss Institute of Comparative Law in Lausanne, and as Scientific Collaborator at the Federal Office of Justice in Switzerland. He also advised practitioners on various Private International Law matters.
Dr Bernasconi was a Member of the Model Notary Act Revision Committee (USA), which produced the Model Notary Act 2010, published by the National Notary Association (NNA). He was also a Member of the International Bar Association Capital Markets Forum Subcommittee on Legal Certainty for Intermediated Securities, and was Co-Rapporteur of the International Law Association's former Committee on Transnational Enforcement of Environmental law. He is an Honorary Fellow of the Australian New Zealand College of Notaries (ANZCN). He is a member of the advisory board of the Hague Project Peace and Justice Foundation.
He was born in 1964 in Basel, Switzerland. He is married and has 3 children.